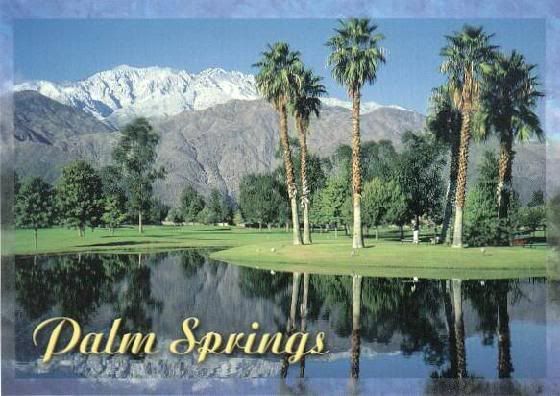 We had a great time in the desert yesterday! We got out there mid-afternoon and stopped at
Hadley's
for a date shake. Yum! Then we spent a little while at the outlet mall in Cabazon. We found a few good deals, but I felt rushed because we had to get Michael to work on time. Oh, well... After I dropped Michael off at the convention center, I drove over to Rancho Mirage and found a nice strip mall with a few more shopping opportunities. I didn't spend any money, but I was able to kill a couple of hours browsing the aisles.
Once I picked Michael up, we headed over to the main drag in Palm Springs for dinner. We enjoyed a wonderful meal at
Pomme Frite
dining al fresco - the evenings are still so pleasant out there. Michael had crepes with duck confit, and I had a chicken dish with mushrooms and a flaky pastry thing - it was sort of like a sophisticated chicken pot pie. Delicious!
I wish we'd planned ahead and found a place to stay the night, but we didn't so we had to drive home after dinner. But, before we did, Michael gave me my first injection of Follistim right there on the strip in Palm Springs! We were in the car, but even so, it was kind of crazy. He did a great job. I'm really grateful that he's not squeamish at all. He handled it like a pro.
We were supposed to go to the races today, but we got some sad news yesterday about Michael's mom's horse. During practice sometime last week, the horse broke a bone in his leg. My in-laws just got the call yesterday morning, though. Their horse's racing career is over. They are sorely disappointed. He was supposed to win yesterday and break his maiden (that's what they call the first win). Now, they have a horse of no value because he can't do what he was meant to do. They can't even breed him because he's a gelding. They will have to give him away to a good home where hopefully he can be retrained to be a companion horse. Anybody interested in adopting a retired race horse?