The day after the wedding, we had a lovely breakfast at our
hotel
before taking a little stroll around old town Santa Rosa which is very quaint. We then hit the road to do some wine tasting. On our way into Napa, we stopped back by the
Mark West Lodge
, which is where we were married. We stopped to take another picture in front of the marquee, and it just so happened that the lodge's owner was pulling up. He took our picture for us, and then gave us a lot of information about the lodge's history. We were so happy to have that time with him. We obviously have a huge sentimental attachment to the lodge now, and we wanted to know as much as we could about it's origins.
We decided to drive into
St. Helena
to visit the
Merryvale
tasting room. We had become acquainted with their wines the night before our wedding when we hosted a dinner for our parents and our bridal party at
Ca'Bianca
, which was a fantastically charming restaurant. We were the only visitors in the tasting room during the time we were there, and we received a lot of attention and excellent service from the gentleman behind the counter. We tasted several of their wines (we are loving the Starmount Chardonnay right now) and enjoyed chatting with our server and mentioned that we were newlyweds. So, he said in honor of our marriage he wanted to pour us a special sample of one of their premier wines. After he did so, we realized that we were tasting a $110 bottle of wine! We were giddy to know that. It will, most likely, be the last time we taste such expensive wine. Let's just say it went down easy.
After our tasting, we walked off the wine buzz by walking the main drag in St. Helena. It is such a cute town. They have so many cute shops and galleries, and it looks like a storybook version of Main Street, USA. Just darling! When we finished our walk, we had a late lunch at
Tre Vigne
, which was originally Michael Chiarello's (Food Network) restaurant. The food was amazing!
The remainder of our time in Napa was spent shopping at the outlets - shopping for Michael. We found him some new pants, new shoes, and a super deal on a new leather jacket for him. He looked so handsome for the rest of our trip! I usually only get to see him in jeans and t-shirts, so when he dresses up a little, I just love it!
Then we were off to San Francisco!
We stayed
here
. It's a little gem. We plan to stay there again and again. It was a lot like some of the little hotels I've stayed in in Europe. They served an incredible continental breakfast, wine and snacks in the early evening, and chocolate-chip cookies later. They also provide turn-down service with chocolates and complimentary bottles of water. All for what we thought was a very reasonable rate. I loved it there!
While in the city, we shopped and dined at the Ferry Building - one of my favs.
Here we are just before our delicious lunch at the
Hog Island Oyster Bar
. I enjoyed some raw oysters on the half-shell, and a salad. Michael had the Manhattan Style Clam Chowder, which both of us agreed was the best we'd ever had. We sipped some French champagne with our lunch, too. After lunch we walked back up to Union Square and did some shopping, no buying just shopping.
Later that night, we met up with Teresa and one of Michael's brothers for another delicious meal at
Cafe Claude
. I'm telling you, we started eating on the day before the wedding and we didn't stop for days and days!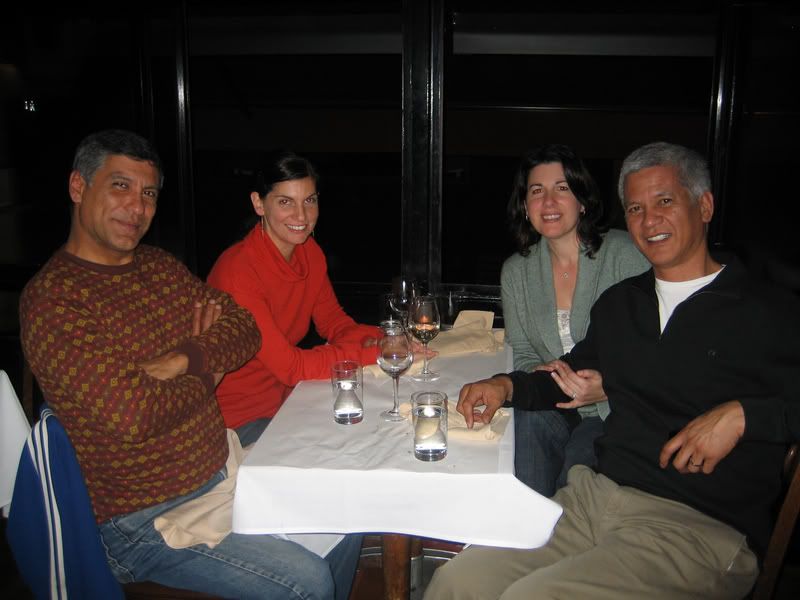 On Wednesday, we had to head for home via Jet Blue, but before we did, we drove across the bay and sampled some sake
here
. We had discovered one of their sakes a few months ago, and we just happened to come across their tasting room and factory on our way to get a sandwich. We wandered into their tasting room and were given quite an education about sake. Once again, we mentioned we were newlyweds, and our server went to the back room to get a special bottle of some award winning, limited-production sake for us to taste! Hey, we're liking this newlywed business. :-)
After one night in our own home, we caught another flight to the East Coast for a weekend in Atlantic City. Now, Atlantic City isn't my first choice (or second, or third, or, well you get what I'm trying to say...) for a honeymoon destination, but my husband had to work there that weekend. We stayed
here
, which was built by the same developer who build the Borgata and the Wynn in Las Vegas. It is a gorgeous hotel. Our room had an incredible view of the shore. The restaurants in that hotel are world-class. We had amazing seafood, Chinese, and Italian while we were there. Michael received a daily food stipend, so we really saved on the cost of our meals. I lost a few buck in the slot machines, and he made a few buck at the craps tables. I had a fantastic manicure and pedicure at the spa, but I wished I'd known they had an indoor pool because I would have packed my swimsuit. I went to the show one night. It's always fun to see Michael play.
The day before we left, we walked The Boardwalk.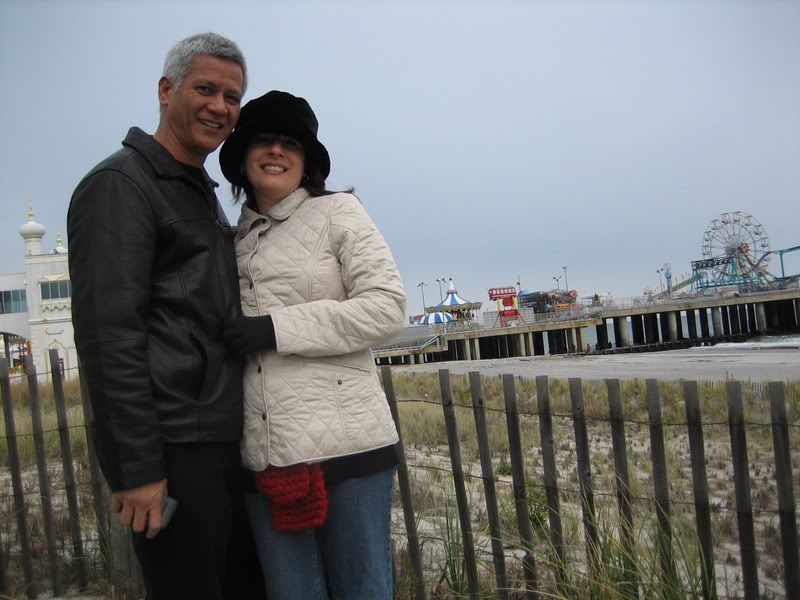 It was as seedy as Michael had warned me. It was also very cold, so I bundled up. Our hotel was, by far, the nicest one in the area, and there really weren't too many shops I was interested in. There was one very nice new mall, and we ducked in there to warm up.
Just being together for the whole week was great. We had a blast and reveled in being the new Mr. and Mrs. I still get a thrill when I see Michael's ring on his finger, and I can't wait to see where we go from here! ;-)