Is that even a word? Whatever... I like it, and it suits my thoughts for this post.


We tried to spend all our gift cards at Williams-Sonoma last night, but were unsuccessful. Granted, we were in one of their smaller stores, but dang! Who knew it would be difficult to spend money there? We did come home with two large bags full of new stuff, and we plan to visit a larger store soon to see if they have more neat stuff. We have such cool kitchen tools now!
I did find the down blanket at Macy's that I'd been wanting. I feel cold at night unless my hubby is there to warm the bed. Since he travels frequently, I knew this was a must have for me. It's going on the bed tonight because...
...Michael is back on the road. And he has lost his cell phone. This is probably paining me more than it's paining him, because I'm thinking, "Great! Now I can't call him (obsessively) whenever I have a free moment." :-(
And he's probably thinking, "Great! Now she can't call me (obsessively) whenever she has a free moment." :-) Apparently, I've run up some pretty high cell phone bills for him before. Oops!
Tuesday's mail included my adoption dossier returned from America World. Sigh... They had recently sent me a letter letting me know that they would apply 80% of my agency fees to a new adoption if we begin one within 18 months. I hope we won't have to consider that to be perfectly honest. Actually, I don't think it is a consideration at all being that Michael is over 50. But, I still read Rumor Queen daily, and I know it's not moving any faster now that they are through November 2005. I was holding out hope that we'd see a pick up, you know? Anyway, I'd hate to be at the back of the line. I truly hope 2008 brings many referrals for my dear blogging buddies!
I think I'll put up the Christmas decorations, including the tree, this weekend. Michael said something about getting a real tree when he gets home, but I'm afraid he'll have a bunch of holiday gigs when he gets back and he'll be too busy for that. Besides, Buffy might knock the tree over (she can be naughty), and I'd rather she knock over an artificial tree without water in the base. Know what I mean?
Got news this week at work that we're getting a raise, and and an increase in our health and welfare benefits, too. Thank you, Lord! I'm always pleasantly surprised whenever we settle our contract before the school year is nearly over. It's retroactive, too! We think we'll buy a new mattress with the retroactive check. The one he moved in with is ancient. I'm sure it's full of dust mites...


I'm currently reading this book: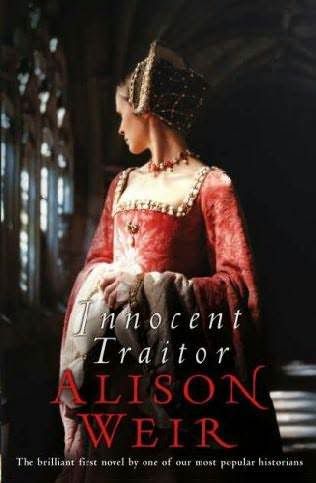 I found it while I was stocking up on more Philipa Gregory novels. My imagination lives in Tudor England these days. I'm even hoping that trashy
The Tudors
on Showtime comes out on DVD soon so that I can watch it without subscribing to Showtime.
Field trip tomorrow. I really don't like field trips. Wish me luck.
I'm so in love with my husband, and I know I'm going to miss him terribly while he's gone. It's time to call his hotel and make sure he got in safely.
Good night!