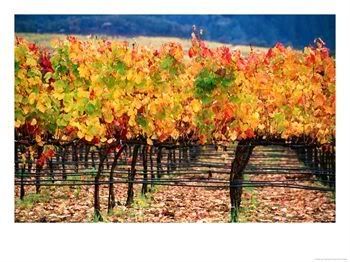 This is what the vineyards up in Sonoma and Napa looked like while we were there. The fall colors were beautiful. Autumn has finally come to Southern California, too. I braved the crowds at Lowe's yesterday and purchased a new furnace filter so that I could turn my thermostat back on. It has definitely cooled down here. ***UPDATE: It must be 80 degrees outside today. Ack!*** There are some streets in my neighborhood that have trees in the parkways that are turning color and losing their leaves, too. The elms on my street don't really do that. They drop a lot of little seed pods though every time the winds pick up.
Thanksgiving was fun and delicious. My sister and her husband always host Thanksgiving at their house. They have the perfect home for entertaining inside and outside. We all worked hard to prepare our dishes, and everything was just so yummy. My family returned to my sister's last night for leftovers, and I prepared a plate for Michael so that he can enjoy them when he gets home from Uruguay tomorrow.
Instead of fighting the crowds at the mall yesterday, I fought my crowded kitchen instead. I had been piling up boxes of wedding gifts in a corner of the kitchen for the last month, and it was time to find a home for all our new stuff. Our friends and family have been so generous to us. We have received almost everything on our registries at this point. We still have lots of giftcards, too, so we're planning on doing some shopping together while Michael is home this week. I cleaned out cupboards, throwing away some things and designating other things for donation. Michael asked me to set aside some of the nicer things to give to a friend of his. I hope this friend has asked his wife if she wants these things, because I know how I'd feel if Michael came home with a bunch of stuff from someone else's house. Men... What can you do?
Anyway, today I'm going to get some exercise and have dinner with Teresa who is in town for the holiday weekend. I'd like to decorate for Christmas, but I can't get to my stuff in the garage because of all of Michael's boxes. He needs to rearrange the boxes in the garage, and I might have to wait for him to do so until he gets home from his next run in mid-December. I guess I could start today by changing the Halloween garden flag to a Christmas one, though. I never got the Thanksgiving flag up. I was a little preoccupied with the wedding to notice that it was time to change the flag!
I'm going to blog about our honeymoon as soon as my hubby gets me the few pictures he took that week. We had such a good time.
I hope you're all enjoying your long weekend.