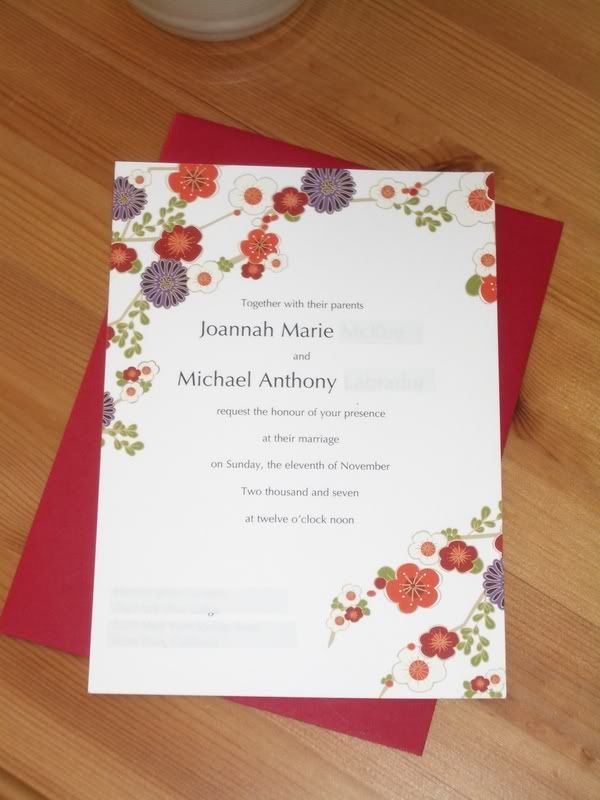 So, here are the invitations! I have blanked out some personal information, but you get the idea. I think they are gorgeous. I just love these rich, fall colors, and consequently the invitation has been the inspiration for the wedding flowers and other details. I was surprised when my order arrived that the envelopes are red, but I love that, too. They are just perfect for the fall season.
I ordered them from
Invitations with Style
and they were very affordable. However, I believe they were so affordable because they are laser printed instead of being engraved or some other elaborate printing process. That's okay with me as it just wasn't a priority. I was also limited on the type style. Fortunately for me, I liked what they offered and the price was right. I did notice today that my order is missing envelopes for the matching thank you notes I ordered - they were supposed to be included. So, I've got to follow up on that and see if I can get them sent out to me right away.
Tomorrow, with the help of my mom and my sister, I'll be addressing these and getting them out in the mail come Tuesday. Now before you go feeling sorry for us and all the writing we'll be doing, I must confess that I'm taking a shortcut. I have printed out clear address labels in a beautiful script. It's probably tacky to do so, but my cursive stinks (believe it, or not), my mom has arthritis in her hands, and so my poor sister would have been addressing all of them herself. So, we'll put technology to work for us instead, and hope our guests aren't terribly offended. ;-)