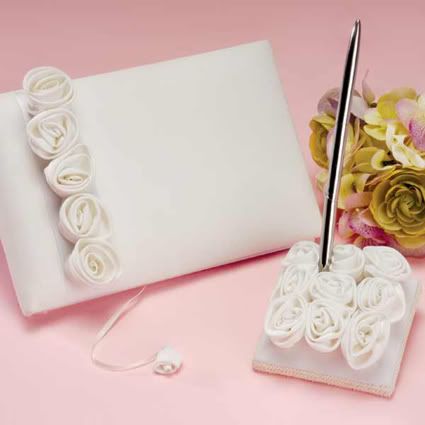 Is it just my ignorance, or is there a good reason why brides and grooms continue to include a guest book at their weddings? I know it's a record of who was in attendance on the day of the wedding. But really, does anyone ever go back and read those signatures when they're reminiscing? I can't see Michael or myself ever doing that.
But, it's a tradition. Right? And I'm a fairly traditional girl. So, I searched high and low for a guestbook that suited my personal style. Some were really pretty, but most weren't. Most of them were expensive, and I just didn't want to spend a lot of money for something that would ultimately just contain a bunch of John Hancocks.
I was just about to ditch the guestbook idea altogether until I came across the
Guestbook Store
. They make semi-custom guestbooks. I was able to choose the cover design, and then I was able to choose from a casual or formal page insert. I chose the casual page insert:
On the back of this page will be a page on which guests can include memories of the bride and/or groom, and give marital advice.
I like this idea because for the same amount of money as many of the other guestbooks I was considering, Michael and I will actually have a book full of memories from our guests - not just their John Hancocks! I also ordered an additional package of pages that allow for the bride and groom to record their thoughts and memories, and pages to record gifts received.
During the reception, I'll have my two lovely nieces work the room and pass out pages to the guests. As things start winding down, they will make sure that people return their (hopefully) completed pages before they leave. To make sure that everyone has a writing implement, I ordered a set of 100 archival quality markers (sold by the Guestbook Store). They come in all different colors, and so guests can express their creativity.
Here's a picture from the Guestbook Store's website of some little flower girls filling out their pages. Aren't they cute?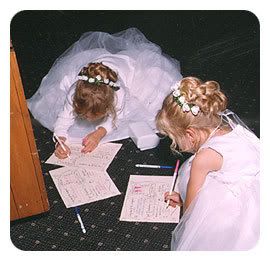 So, have any of you ever been asked to do something like this at a wedding? If so, what did you think of it?