Today we went over to the courthouse and applied for our marriage license! We now have 90 days to marry before it expires - our wedding date is just eight days before the license is no longer valid. I wanted to get it done now because once I return to work next week, it would have been very difficult to get over there without taking time off from work.
Later in the afternoon we did some ring shopping. This is just the second time we've gone looking, but I think I've found THE RING! I had originally had my heart set on a variation of this three-stone ring: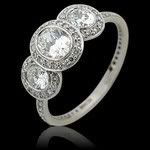 ...but I found something I liked as well today in a different, yet still antique style. Actually, it's similar to the ring above, but it only has one center diamond surrounded by pave diamonds instead of three. The diamond sits up higher in the setting, too. It's really pretty. However, Michael wants to go up to the Jewelry Mart in Los Angeles on Saturday. So, even though I would be content to quit shopping at this point, he apparently isn't. I'm surprised, really. I thought he'd be happy that I was happy, but he thinks we'll find a better deal up there. I think he'll find that we can't beat the deal we found today, and he'll return to the store we were at today and buy the ring I like. So, we'll just have to agree to disagree until he realizes that I'm right... ;-)
I had already decided that I didn't want an engagement ring and a wedding band, and the jeweler who helped us today said she's selling mostly single rings instead of wedding sets these days. So, I guess I'm fashionable! Who knew?