Yesterday morning Michael received an email with some new tour dates that overlapped our plans to go to Hawaii. I was ticked off, big time! But, my sweet husband went into action right away. He got on the phone with the airlines and was able to reschedule our tickets in no time. You the man, baby!
The outcome is that we'll be going to Hawaii next month (next month!),
and
our trip will be nearly twice as long as our original trip was supposed to be. We'll be there for ten nights. Needless to say, I got over my hissy-fit pretty quickly. In fact, I'm just thrilled at this turn of events now.
Unfortunately, we were not able to reschedule our rental unit in Waimanalo, as they were already booked. So, I got back on
VRBO
and found a duplex I had considered before in Kailua. They still had the availability we needed at this late notice and I'm in the process of making that reservation final today. We also decided that we'd spend our first couple of nights on Waikiki Beach, and we're trying to make a reservation at the Hilton Hawaiian Village. One of Michael's brothers works for Hilton, so we may be able to get the family discount. That would be very nice!
The duplex we'll be staying in is 3 1/2 blocks from the beach, and it's on a canal. It looks small to me, but very nicely decorated. The property has a salt-water pool and beautiful landscaping. I think we'll be very comfortable there.
Here are some pictures for your viewing pleasure.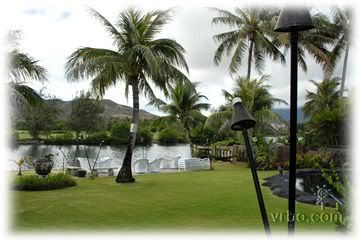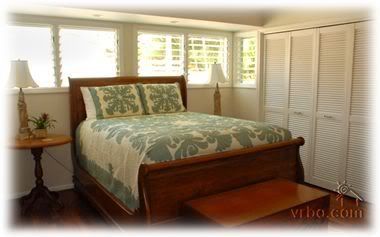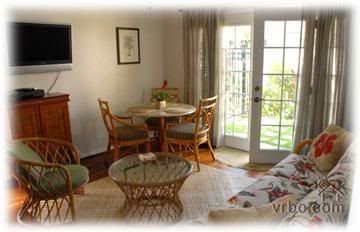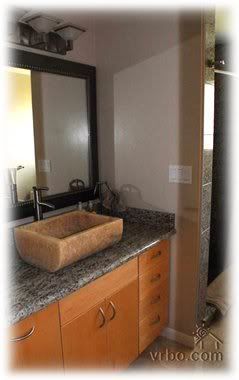 Nice, huh?
So, seven weeks from Sunday we'll be on our way to paradise.
I can't wait! And I hope the islands will bring us good luck baby-wise...
;-)