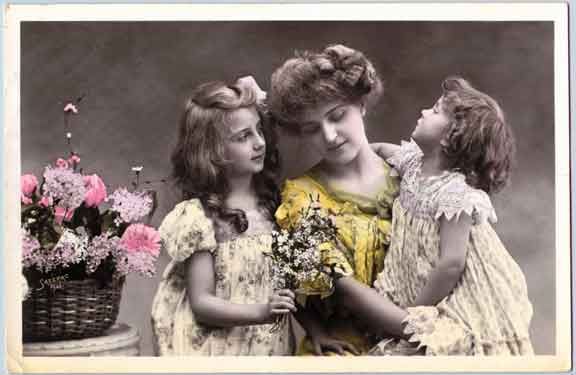 Happy Mother's Day to all you moms, and especially to my mom!
We celebrated with the mothers in our family today. My sister and I hosted a beautiful brunch at her home. We toasted with champagne, and ate heartily of a zuchini fritatta, a peach French toast bake, and a gorgeous salad of fresh strawberries, raspberries, and blackberries. The food was so good, if I do say so myself! The only disappointment was that my brother-in-law wasn't feeling good, and so he stayed in bed and kept his germs to himself. We missed him.
I expected that this Mother's Day would be more emotionally difficult for me than it's turning out to be. After all, since last Mother's Day I have forfeited my adoption and am now dealing with infertility. This time last year, I was anticipating that I'd be having a baby this year. But, I have to say that I really feel peaceful about where I am in my journey right now. The novelty of being married has not worn off, and I am thoroughly enjoying this time of being still newly married. I'm sure that is a big reason why I feel very satisfied with my life right now. Furthermore, I am hopeful that our dreams of becoming pregnant will be realized some time this year, and if not, then God has some other path in mind for us. We're willing to do what we need to on our end, but ultimately it's in His hands and I'm okay with that.
I can only credit this sense of peace to spending time on an almost daily basis in prayer and bible study since February, because before then I was really sweating all this. I remember expressing my anxiety to my wonderful friend Stacey a few months ago, and she told me that God knew at what point in my life I would be having children, and that he knew just how many eggs I'd need. She said it with such love and confidence, and because I believe she has such a deep connection to the Holy Spirit, I have replayed that conversation in my head many times and been encouraged again and again.
So, if Mother's Day is a hard one for you, if you feel disappointed because it's taking so long to get where you want to be in your life, or if you have lost your mother, take heart. God is good, and he will do good things - amazing things - in your life. Try to hang on to that.
There's more to come: We continue to shout our praise even when we're hemmed in with troubles, because we know how troubles can develop passionate patience in us, and how that patience in turn forges the tempered steel of virtue, keeping us alert for whatever God will do next. In alert expectancy such as this, we're never left feeling shortchanged. Quite the contrary—we can't round up enough containers to hold everything God generously pours into our lives through the Holy Spirit!
Romans 5:3-5 (The Message)