So, here is the scarf I'm knitting. I started out with sixteen stitches, but somehow messed things up so that I now have twenty-one. Thus, the bottom is narrower than the top. Oh, well... It's my very first knitting project and I guess I should expect to make some mistakes.
I just love the yarn I'm using. I purchased it at the shop where I'm taking my class. It's 50% Alpaca and 50% cotton, so it's really soft and fluffy. The colors are just yummy. The yarns in that shop are a feast for the eyes. I took a break from knitting today just to wander around and look at all the pretty things. I hope to make a felted purse someday. I love those.
After class, I met up with my mom, my grandmother, my sister, and my nieces and we went to tea at
Paris in a Cup
. We were there to celebrate my grandmother's birthday. I must have had six cups of tea! We noshed on scones, soup and salad, cheese and fruit, finger sandwiches, and petit fours. So good! And so much fun!
When I got home, I took Buffy for a walk around the block. She seems to be doing really well. She'll see her regular veterinarian next weekend, and I'm going to ask him to check out her knee real well, as I can't get in to see the surgeon - our schedules don't mesh. Dr. Morris (the regular vet) will probably do some x-rays. I hope everything looks good in there. I haven't observed any lameness, but she does seem stiff sometimes. So, I'm interested in what Dr. Morris will say.
Isn't she beautiful?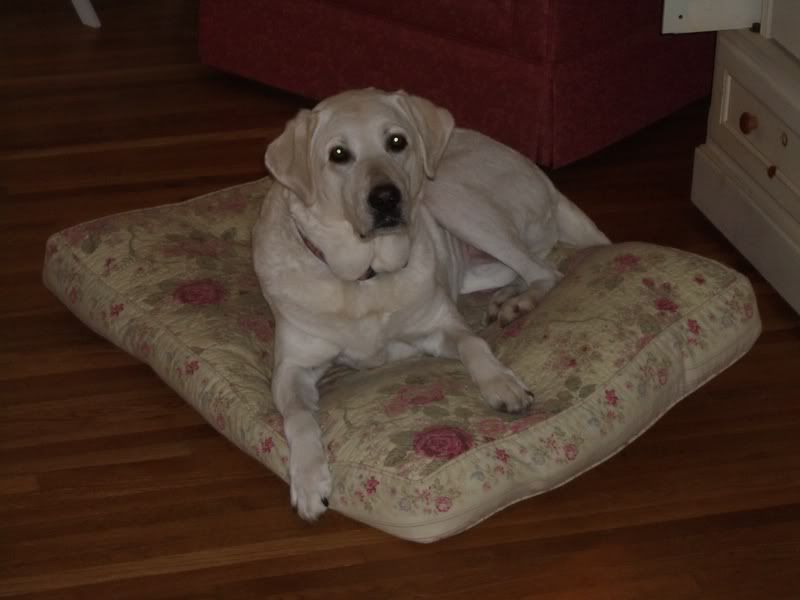 I love that girl!
Michael is now in Zurich, but will be busing back to Germany tomorrow night. There is no way I could join him on a tour like this one. Some nights they don't even have a hotel because they have to get to the next city overnight. He hasn't done any sightseeing yet, either - not much time for that. He says there is talk of another European tour this summer. I wouldn't mind going back with him, but not if it's another bus tour. Thing is, if we're apart all the time, we aren't going to get pregnant. I have some anxiety about that, but I'm trying to release my worries and concerns to God's care instead of carrying them around with me. All I can do, is all I can do, and God can do so much more.
For surely I know the plans I have for you, says the Lord,
plans for your welfare and not for harm, to give you a future with hope.
Jeremiah 29:11