Until my baby comes home!
Woo hoo!

He is currently in the city with this landmark building. Any guesses?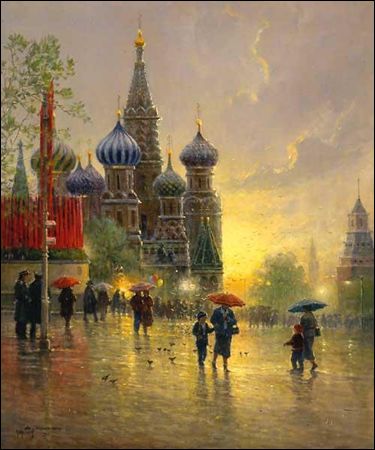 I'm feeling the urge to nest a little bit in anticipation of his return. I'll be cleaning and grocery shopping on Saturday before I head up to LAX in the evening. He will have traveled 20 hours (if there's no delay), and I just want him to come home to a clean house and a well stocked pantry. I'm already thinking about what I want to fix for breakfast on Sunday morning, and I'm leaning towards Peach French Toast Bake from
Ellie Krieger's
The Food You Crave
. It's healthy. Really! Just 254 calories, 6 grams of fat, and 5 grams of fiber per serving.
So, I'm just thrilled that Michael is coming home, but he gave me a little disappointing news yesterday. Seems our trip to New York City has been postponed
again
because the host of the soiree he was to play for has had a death in the family, which is
of course
sad. But this is the fourth time this year that a gig in NYC has been postponed for the band! I don't know what's going on. So, then I was happy just to know that he would be home that weekend, which is Mother's Day weekend, but now there's a chance that he'll be going to Turkey for a one-night gig. Well, it might be a one-night gig, but with travel time and all he'd probably be gone for four days. I'm really hoping that doesn't pan out. I really need to have my husband home with me, or
I'm
going
to
lose
it.
I think you know what I mean!
New topic...
I treated myself to a massage this afternoon. Actually, I thought it was really therapeutic instead of self-indulgent. My lower back and hips have been stiff and sore for several weeks. I really can't figure out why, because I started feeling that way before I did any yoga. Today was the first day I felt pretty good in quite a while, but the massage really loosened me up. (So has the glass of merlot I've been sipping!) This favorite day spa of mine recently moved to a new locale and they now have a jacuzzi, steam room, and sauna - just like a real spa. After my massage, I donned my bathing suit and enjoyed having the jacuzzi all to myself - Thursday afternoons being a little slow there. It was just wonderful.
Then I walked a few doors down to New York & Co. (which seems to be the closest I'm going to get to the real thing anytime soon), and bought a few items for spring. Now, if the weather will just cooperate and keep warming up, I'll be styling in my thrifty duds. Did you know they give you a 15% discount if you simply show them your AAA card? I love that! Their stuff is pretty cheap to begin with and then you get the discount. Nice!
Thirty five days of school left, but who's counting?
;-)