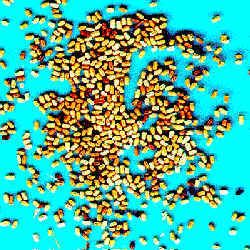 That's what I said the first time I saw a pile of these on my bedroom floor. I cleaned up the two-inch diameter pile of whatever it was, and hoped I wouldn't see it again. I was in denial, though. I didn't want to admit what I thought it was.
Just two days later another pile was in the same place.
I couldn't continue to deny what I was seeing - what I knew must be causing these piles.
Dry wood termites!
Damn!!!
So, now we have to figure out how best to treat our termite-infested house. Our next-door neighbors recently had their house treated with the orange oil stuff. I like that idea because it's not toxic to people. I need to talk to my neighbors some more before I start calling around.
Any good ideas, readers?