Business first. I finally heard back from the doctor's office this morning. I think they had their wires crossed because they think they called me and left a message. The blood test confirmed what I already knew on Sunday. I'm not pregnant. Sigh... We will try again this coming cycle or the next. I guess it will all depend on if my ovaries have gone ahead with their routine already even though my period hasn't begun. So, we really won't know anything until the third day of my next cycle. Waiting for that call last night was really tough on me. Michael is away from home, and I just felt so alone. I'm glad to have that over with. Now, I'm fighting some nasty-sore-throat-sinus-thing, and I'm home on the couch for the day. Silver lining - I have time to blog!
As for our weekend, it was practically perfect. We took BART from the airport right into the city and walked a few short blocks to our amazing hotel.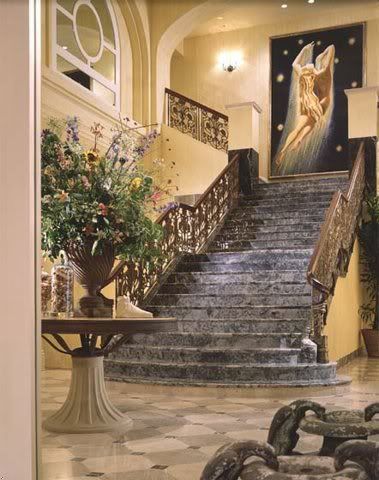 We scored such a deal on our room at Hotel Monaco which usually goes for almost $400 a night! I was giddy about it, let me tell you. Every evening they hosted a wine hour in one of their living room areas and the wine was pretty good - at least it wasn't Two Buck Chuck! They had a massage therapist during that wine hour giving ten minute back massages. We both signed up for that! Anyway, we were just a couple blocks off of Union Square and central to lots of shopping and dining opportunities.
Saturday we were able to check in early to the hotel, and then some friends of Michael's (Kris and Tom) picked us up for brunch. We went to
The Butler & The Chef
for some scrumptious french toast and quiche. Oh, my! So good! That afternoon we walked around the Fillmore shopping district in the rain and all the way back to our hotel. We took a pedometer and could see that we walked about five miles every day we were there. Made me feel less guilty about all the food we enjoyed! Dinner that night was at
Cafe Claude
with my friends Teresa and Toby. I had this amazing trout dish. I think Michael had the lamb. We had eaten at Cafe Claude last year on our honeymoon with Teresa, and this time they seated us at the same table. It's officially our table now.
Sunday started out a little sad when the HPT was negative, but I quickly found the silver lining in that I could now enjoy more than a few sips of wine with dinner and I could drink real coffee. When life gives you lemons...
Each morning Michael would go out to pick up some coffee and pastries for breakfast. So, I enjoyed breakfast in bed for three days. Once we were ready to go on Sunday, we walked over to Chinatown and hunted down some dim sum. I kept trying to advise my husband where we should go by using the Yelp! feature on my iPhone, but he was reluctant to trust Yelp! Instead, he had to check each place out for himself. In Chinatown most of the dim sum places were take out. I really wanted to sit down and be served. Our indecision (and Michael's faint memory) led us to a lousy all-you-can-eat joint. We walked out after a few bites, and got in line for some take out dim sum instead. After that, we used Yelp! for all our dining choices. We took our dim sum over to North Beach. Ordered some lattes at a sidewalk cafe and enjoyed our dim sum with our coffee and watched the world go by. The people watching in SF is unbeatable!
That afternoon we hooked up with an old friend of mine from high school whom I hadn't seen in about 15 years. Patrick and his wife Chung (I'm not sure that I've spelled that correctly, or not) were so much fun to be with and I wish we could have spent more time with them. We promised to keep in touch. So, I hope we'll see them on our next trip up north.
Dinner that night was at the acclaimed restuarant in our hotel - the
Grand Cafe
. Wow! What a gorgeous restaurant! I had the lamb shank and Michael had the cassoullet. Delicious!
Monday we walked down to the Ferry Building for lunch at the
Hog Island Oyster Company
. We'd dined there on our honeymoon, too. This time we sat at the same table and had the same waitress. She even remembered us! Michael doesn't care for oysters, but I do. And since I knew I wasn't pregnant, I could order them. He had the amazing clam chowder instead, and we split a fancy grilled cheese sandwich. We also ordered a bottle of French sparkling wine and sipped it while we gazed at the sparkling San Francisco Bay. It was a lovely afternoon.
After lunch, shopping occurred! We each found some things we'd been looking for. Michael has a new sport coat for work, and I have a new pair of short black boots and a pretty silk top. We started a new tradition, too. We picked up a glass Christmas ornament (a la Christopher Radko) with the Golden Gate Bridge on it. I have a handful of glass ornaments from places I've been - the Eiffel Tower and Big Ben for example. I've assigned Michael the task of looking for ornaments like that when he's traveling from now on.
We intended to have dinner at
Cortez
that last night in the city, but when we got there we learned it was closed for a private party. So, we sat down in the lobby and used Yelp! to find an alternative. We quickly decided on
Millenium
which is gourmet vegan. It was one of the best meals I've ever had. We chose to order off their prix fix menu and did the wine pairing. Wow! Who knew vegetables could be so delicious? We will definately go back there again.
Tuesday morning we had a little time for walking and browsing before we had to check out and head back to the airport. On our way back to the BART station on Tuesday we picked up some lunch to go at
Out the Door
, which is a sister restaurant to the famous
Slanted Door
restaurant. I have never eaten at the Slanted Door because it's at the Ferry Building and I always want to go to Hog Island Oyster Company when I'm there. Next time, I think I will have to go for the Slanted Door because Out the Door was so, so good. Both restaurants do Vietnamese cuisine which I haven't really had that much of before. Now, I'm hooked. We've already Yelped a restaurant in our own neighborhood that has been compared to the Slanted Door. We'll be trying it very soon.
As you can see, we pretty much ate our way through San Francisco! It's always that way, though. I really enjoyed the cool weather and all the bustle of the city as the holiday season began - so different from my suburban existance. We just missed the lighting of the Christmas tree and the opening of the ice rink at Union Square, but many of the shop windows were already decked out in their holiday best. But, best of all, was being with my husband and celebrating our very first wedding anniversary. It has been a wonderful year, and we are very excited about our future together.