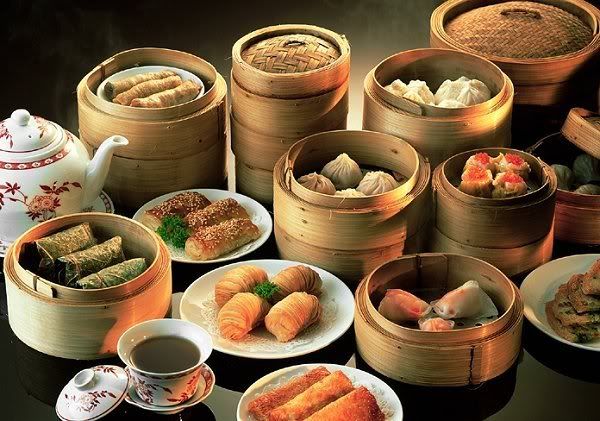 After I picked Michael up at the airport this afternoon, we both decided we were hungry and in the mood for dim sum. So, we drove over to Artesia to one of our favorite Chinese restaurants where they do dim sum on the weekends. We had never been there for dim sum, and we almost missed our chance today arriving just fifteen minutes before dim sum ended. We enjoyed four varieties of dim sum for just fifteen bucks! Then we stopped at their takeout counter on our way out and purchased some dessert dim sum that we enjoyed with some tea later in the afternoon.
I don't even want to know how many points were in my dim sum lunch! Speaking of points, I have been having a very hard time staying within my points allotment - we have been eating out too much I'm afraid. In fact, when I went to WW to weigh in the other day, I was the same weight as when I started. This caused the lady weighing me to ask me how my week had been. I just smiled and said fine. She told me to drink more water. I guess I'm a WW slacker. Guess I'll have to get serious about it soon.
In other news, we decided to make plans for our first anniversary weekend in November. We purchased our tickets to San Francisco yesterday, and we're trying to coordinate with Michael's brother to get a great rate on the hotel he works for in SF. Michael has suggested that we try to do a wine country tour while we're up there, and if I'm not pregnant by then I think that will be lots of fun. There's one where you start at the Ferry Building, take a motorcoach into the wine country, visit several nice wineries, have a picnic lunch, and then take a ferry boat back to the Ferry Building. It sounds like a full day, doesn't it?
Anyway, it's something to look forward to after I'm back at the daily grind.