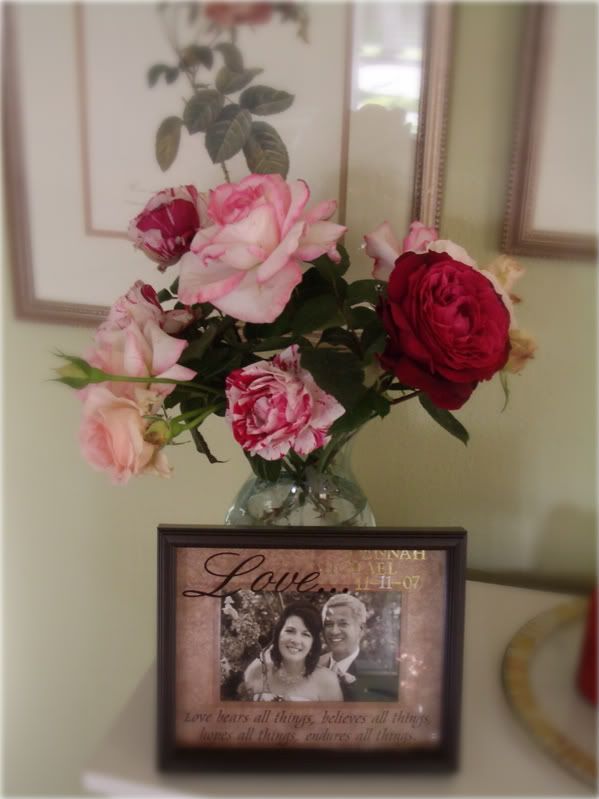 My rose bushes are doing so well! They are loaded with flowers. I spent some time out in the yard the other day dead-heading the spent blooms and cutting a few for this bouquet. Last year I was so busy with wedding plans and travel plans that I don't think I ever cut a single bouquet, and I know that I didn't care for my roses like I should have. They have not held last year's neglect against me, for they are rewarding me with their gorgeous blooms now. I am inspired, and I hope to spend more time in the garden this spring and summer rejuvenating it and enjoying some relaxing moments out there, too.
Speaking of gardens...
There is a garden tour taking place in the Orange County area the weekend of May 3 & 4. My sister's garden is on the tour, as it should be. She has
such
a lovely garden. For those of you who live in the area and love gardening, you can learn more by going to
Heard's Garden Tour
. It's a fundraiser, and the monies raised go to some really good causes that benefit people in need in the county. I'll be enjoying the tour that weekend with my aunt and my mom and some of my mom's good friends. I'm sure I'll be truly inspired to make more of my garden after seeing the gardens on the tour.
The picture you see before the bouquet was sent to us by
Michelle
a few months ago. Thanks again, Michelle!