School resumed today, and there are eleven more weeks of the daily grind before summer vacation begins. I am counting the days.
I attended my first knitting class on Saturday morning, and I caught on pretty fast. I'm working on a pink scarf already. I had a really good teacher, Tammy. She gave me almost constant attention for two hours. I loved every minute of it. Knitting is fun! The store at which the class takes place is just beautiful. They've got a corner of the store set up with comfy sofas, and a couple spaces with tables and chairs for their knitting students. It's a bright, colorful place, and it feels like being in someone's eclectic, warm home. It's my new Saturday morning hang. Check it out: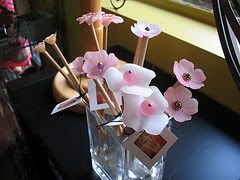 After my knitting class, I went and had a massage. The massage therapist used hot stones on my back. It felt so good. I've never experienced that before. It was great. I wish I could have a massage every weekend!
I talked to my hubby when I got up this morning and when I got home today. He's in Frankfurt, Germany. I don't think he's seen much of anything but the airport and the hotel. He's wiped out from the flight and the time difference. Poor guy! But he's got a day off tomorrow, so I'll bet he gets up and does some sightseeing although I don't know what there is to see in Frankfurt. He mentioned that there's talk about another European tour this summer. If so, we may need to cancel our Hawaii trip, and I don't really want to do that, but I'd go to Europe with him instead. I need to get my passport changed to reflect my new last name. I guess I'd better get on that this week. They are taking a long time with those these days.
While I was drafting this post, a fire engine, paramedics van, and two police vehicles pulled up out front. All the neighbors came out to watch. I watched from my front window for a while, and then I went out to see what was going on. I heard that the neighbors' adult daughter has overdosed. Her parents are out-of-town right now. It sounds bad. Her parents are so nice. They will be devastated. Please say a little prayer for this family.