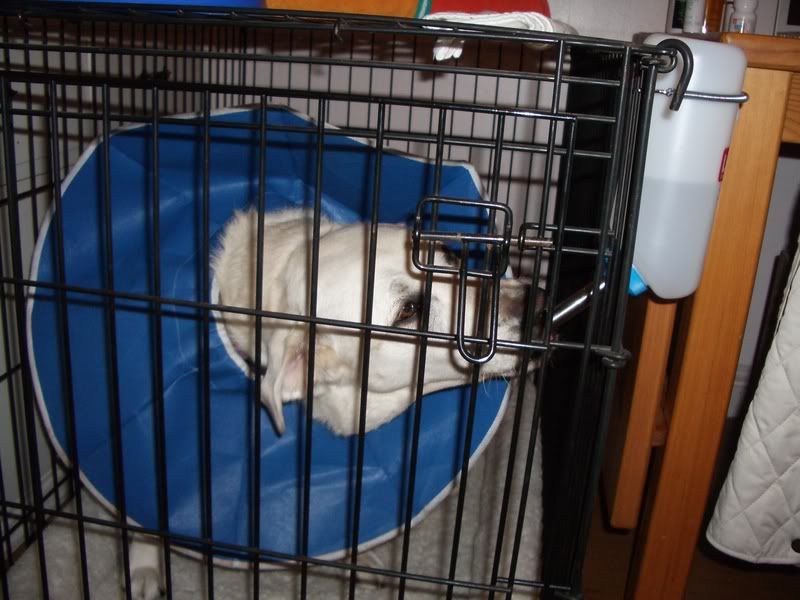 Here she is just moments ago. We've moved her crate into the kitchen, put in a nice, new, faux sheepskin bed, and hung that water dispenser there for her. She really drinks a lot of water!
She whined all the way home in the back of Michael's car, and wouldn't sit down back there. I was so nervous for her. Once we got home, Michael carried her in and put her in her crate. I tried to feed her, but she was not at all interested in her food. I had several medications I needed to give her, so I tried putting her pills in peanut butter but she still wasn't interested. We finally ended up having to shove them down her throat. I've never had to do that with her. She'll usually eat anything!
She was really out of it (she'd been on morphine at the hospital), but couldn't relax in her crate. She just kept whining. So, I opened the door to the crate and just rubbed her head for the longest time until she finally settled down and went into some sort of stupor. You would have thought she was asleep, but her bloodshot eyes were open.
She slept through the night, but I heard her drinking water again around 3:30 am. So I got up and opened the crate, and she came right out and ate all the kibble in her bowl! That's the Buffy I know.
This morning she has eagerly taken her meds in peanut butter, and enjoyed some more kibble. She's curled up in a ball dozing now. I'll be here all day to nurse her.
I'll tell you, it just breaks my heart how much this dog has gone through in her short life. I was thinking about how grateful I am to have strong knees and not have to live my life in pain. She's always such a happy dog, too, despite her pain. She's a survivor.