And, I'm full of random thoughts.
Okay, I just finished watching my Tivo'd episode of the L O S T season premier. Wish I could say that I've got it all figured out, but I really don't. It just gets weirder all the time. That's all right. I like that it keeps me guessing.
Because of the writer's strike, Michael and I have been watching WAY TOO MUCH reality television. My favorite is Jon & K@te + Eight, but I must admit that we've been watching Celebrity Reh@b with Dr. Drew, and Scott B@io is 46 and Pregn@nt. I
love
Jon & K@te and all their little ones. The "babies" are really growing up and revealing their unique personalities. I just marvel at how healthy they are considering they were premature multiples. I do cringe sometimes at the way K@ate talks to Jon, but Lord knows she's got her hands full. I don't think she has time to sugarcoat anything. Celebrity Reh@b is kind of painful to watch, and Scott B@io just cracks me up. In fact, his fears about responsibility and marriage remind me of what Michael went through before we decided to get married. So there. I've confessed to my trashy tv habits. What are you watching these days?
On another note...
We have found a rental property on Oahu for our summer vacation. We will be staying in Waimanalo. We're renting a cute little cottage just across the street from this: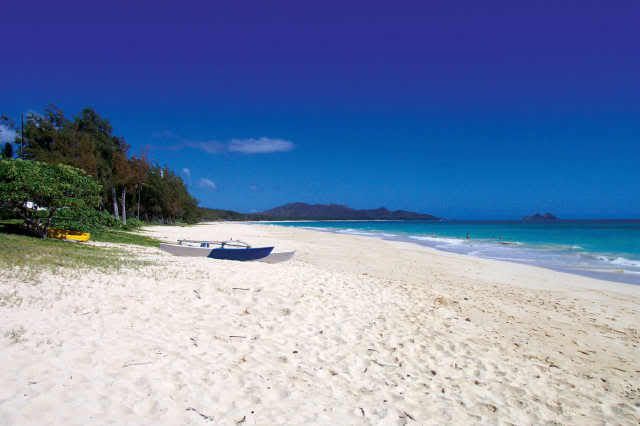 Isn't it beautiful? (Imagine me jumping up and down with glee.) I don't want to wish my life away, but I can hardly wait to get there at the end of July! I have never been to Oahu before, and I'm looking forward to seeing Pearl Harbor and some of the other sites on the island. I'm glad we agreed to rent a home instead of a hotel room because we can then do a lot of the cooking at "home" and save some dinero.
Our other plans to travel to New York City next month have been canceled. The gig Michael was going there for has been postponed indefinitely. I was really looking forward to seeing the Big Apple again. Sigh... Oh, well. The year is still young. Maybe there will be some other great place for me to meet up with Michael when he's on the road and I've got some time off later on.
My cold has turned out to be rather minor. It's nothing more than a nuisance. Thank you, Lord!
That's it for my random thoughts tonight.