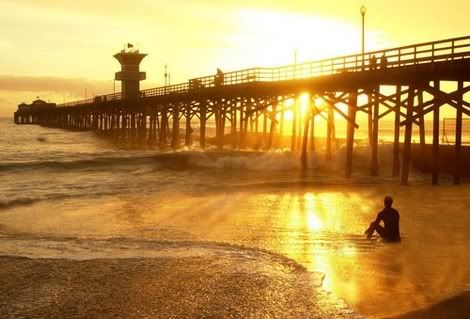 We started off 2008 by putting away all the Christmas decor. While I didn't really appreciate Michael's method to getting the job done (sort of like a bull in a china shop), I did appreciate his effort and we were done in a lot less time than I would have been on my own.
We then opened a bottle of our favorite champagne and watched a football game. I'm not sure which one it was, but it might have been the Rose Bowl. My eyes sort of glaze over when sports are on the television. I usually grab my laptop, a magazine, or a good book to avoid having to look at the screen. Late in the afternoon, I did begin to complain that I was bored and I thought we were going to do something. He told me if I could get ready in less than an hour we'd go for a walk at the beach. So, I rushed to get ready and we headed down to Seal Beach and took a walk down Main Street and the pier there just in time to see the sunset. It was gorgeous!
I asked Michael if he makes New Year's Resolutions, and he said he doesn't. I'm not surprised. This is a man who really doesn't like change. I admitted that I usually make a few, but then don't keep them. In fact, I've decided not to make any this year. There are things I want to do in this new year, but I don't think I need to make a list to do so. I'd like to spend more time being creative (in what way, I don't know yet), be more active, grow spiritually, and fully enjoy our time as newlyweds. I think that's enough to strive for for now.