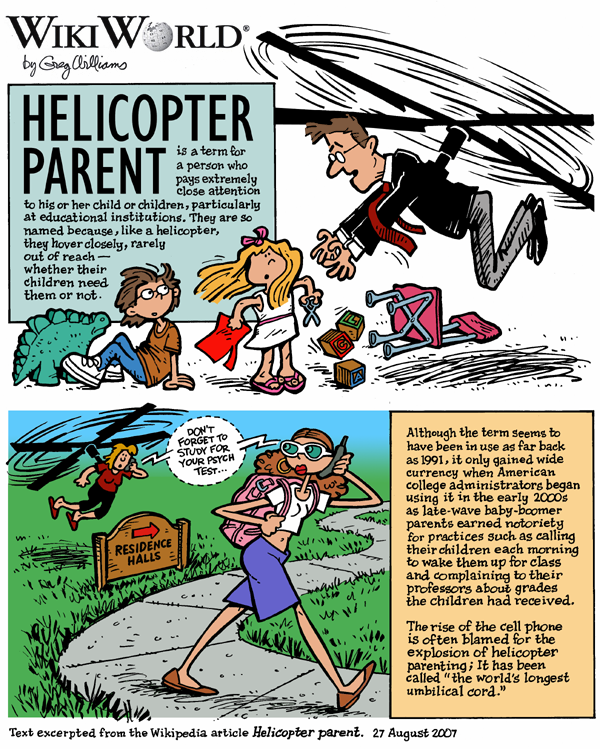 The media calls them helicopter parents. Teachers just call them crazy. I am being besieged by crazy/helicopter parents this year. It is probably the most stressful aspect of my job. In my opinion these types of parents do not respect me as a professional, and they certainly don't respect the healthy boundaries I try to establish.
Here's my advice for how you can avoid becoming a crazy/helicopter parent:
Don't stop by to talk to the teacher every day. Call and request an appointment if there's a pressing issue.
Don't blame your child's multiple tardies on your child's fear of the teacher (which you must know is not true) and that he must be hiding on campus because you are dropping him off on time - especially when the teacher can see you pull up to the curb outside her door at ten minutes after the bell rings.
Don't lose
every
,
single
study guide the teacher sends home, and ask for another one the day before the test.
Don't yell at the teacher and tell her she's "not a kind person" repeatedly (in front of your child) when the teacher simply says that your child must choose their own book for the upcoming book report. Understand that the teacher is trying to teach your child how to make independent decisions and to be responsible for themselves.
Don't call at 5 o'clock on Friday evening and ask the teacher to return your call. It doesn't help that you're leaving your cell phone number - she's not going to call you back. The teacher has gone home for the weekend and is trying not to think about school and the crazy parents that lurk there for 48 hours.
Don't try to negotiate your child's grades. Help your child prepare for tests and assignments instead.
Don't take a lousy report card personally. Read the teacher's practical suggestions for how your child can improve his or her work habits and study skills to raise their grades, and then establish some goals for you child in the coming trimester.
Don't gossip about your child's teacher.
Don't believe everything your child tells you. When they say they don't have a textbook to study from because there weren't enough, they are probably fibbing. More than likely, they just forgot to bring the book home with them, but are reluctant to admit that to you.
Don't run after the teacher as she's getting into her car on Friday afternoon to continue the ridiculous conversation you had with her just a few moments before when you tried to negotiate a better grade for you child who lost her study guide (
again
) and probably spent less than 15 minutes studying for the test in the first place.
Yes, all these things have happened to me since I returned to work after Thanksgiving! Work has become a very stressful place to be. The only things that make it bearable are the support of my wonderful principle and my empathetic colleagues.
In a future post, I will give some recommendations for how you can be a wonderful parent in the eyes of your child's teacher.