Today was the first time that I was able to say, "I'm getting married next month." I like the sound of that very much!
Thank you all for your condolences about Taylor. I appreciate the love and support you've sent our way. Buffy and I are doing really well. She's just crazy about that new toy. It's getting on my nerves, but she loves it. That's all that matters for now. She seemed to do well on her own at home today. Nothing seems to be dug up or chewed up. I don't know what she did all day long, but she wasn't naughty. We had a nice walk earlier this evening, and she's just decided to settle down at my feet. I'm doing well, too. I think already having another dog is helpful right now. If I were coming home to an empty house, I think it would be much harder. Buffy is hard to ignore, and she is a good companion. We are keeping each other company.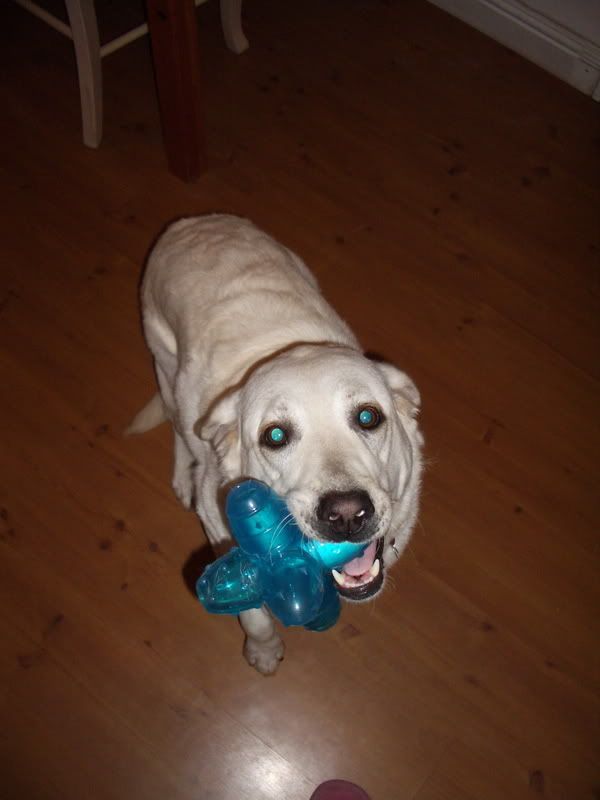 Check out Buffy's eyes! She looks like an alien, doesn't she?
You'll be happy to know that I'm not eating cereal for dinner tonight. I'm having shrimp cocktail instead. Michael doesn't eat shrimp (or beef). So, I've got to eat those things when I'm dining without him. The good thing about having eaten cereal so often lately, is that I've lost four pounds! I'm thrilled. I wonder if I can lose four more pounds in the next couple of weeks. I'll have to stock up on Frosted Mini-Wheats and Smart Start!