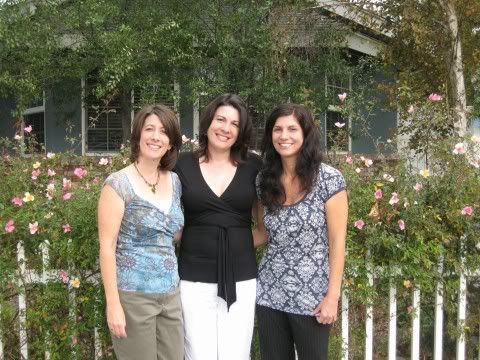 Last Saturday, my sister Julie and my sweet friend Teresa (my bridesmaids) took me to Laguna Beach for a day of shopping and lunch. Our original plan was to spend the day at Glen Ivy Hot Springs, but the air quality out that way was really bad after all the fires last week. So, we will use our tickets there another day.
Once we arrived in Laguna Beach, my sister made me wear a makeshift veil. That drew a lot of attention. Since it was right before Halloween, I'm sure there were those who thought I was sporting my costume a few days early, but most people seemed to get it and they asked me about the wedding. For lunch, we went to Las Brisas where we sipped margaritas and shared some cerviche and quesadillas. Las Brisas has a really nice patio with a great view of the ocean. It was the perfect setting.
After lunch we drove a little further south to the Montage resort. I had been there a few months ago for a dinner party, and I wanted my sister and Teresa to see it. We checked out the amazing view from the lobby, and then walked the grounds. It really is a lovely property.
I had such a good time - even with the silly veil in my hair.