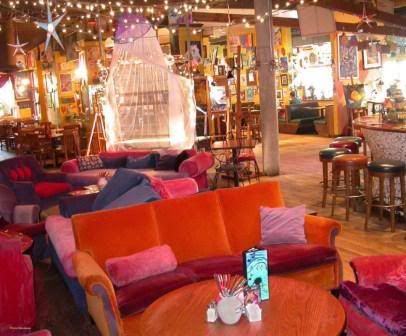 We met up with our parents last night at Cafe Tu Tu Tango. I had never been there before, but I'd heard good things about it, so we gave it a try. It's a very funky place. There's original artwork all over the place, and a balloon artist works the room. He was making some really elaborate balloon art like I'd never seen before. At one point, a belly dancer appeared and did her thing all around the dining room. I wanted to try Cafe Tu Tu Tango because it's all small plates, a la tapas, and we so enjoyed dining that way in Madrid. The food was good. More importantly, everyone got along very well and conversation was made easily. Michael's dad generously treated us all to dinner - what a sweetheart. I'd say dinner was a success. I feel really good about having them for my in-laws. They are good people, and they really love their kids.
I received two more response cards today. We now have six confirmed guests! I sure hope people get those back to me sooner, rather than later. I can't order favors or make place cards until I get a final head count. We have a deadline of October 15th, and we'll be making phone calls to any invitees who haven't responded by then. I hope we don't have to do that...
Michael went back to the jewelry district in Los Angeles today to make arrangements for the ring. He'll return after his next run (i.e., business trip) to pick it up. I can hardly wait to wear that shiny goodness on my finger and be Mrs. L!
Last night Michael gave me a big smile and said, "Honey, you're going to be my wife in nine weeks!" I already knew that, of course because I'm counting down the days, but it made me feel really good to hear him say it.
He's starting to pack up his place this week. I don't know where we're going to put everything. I told him make four piles - the stuff he can't live without, the stuff he can store until we build more room here, stuff he can donate, and stuff to throw away. I need to go through my closets and drawers and get rid of stuff, too. We've got 868 square feet. That's it! Yikes!
Lastly, we realized that he has been scheduled to go back on the road just four days after the wedding! Hello! He notified his employer two or three months ago as to our wedding date, and there was nothing booked within two weeks of the wedding at that time. But I guess the show must go on... Fortunately, we had only planned on spending three days on a mini-honeymoon, so it doesn't ruin our plans. But, I really didn't want to be apart so soon after the wedding. So, since the run is short, and since it's in a location at which we we'll be able to stay in a very nice hotel, we decided that I would go with him. I'm glad we were able to work that out, because I would have been sad to come home from my honeymoon and be left behind whilst he took off for a fun weekend elsewhere without me! That just wouldn't have been right.