Yesterday was hard. Buffy seemed aware that something was different. I had left the clothing I'd worn to the pet hospital on the floor of my bedroom, and she returned to it several times in the morning to sniff it. She was also sniffing Taylor's crate a lot. I decided we needed to make a few changes to help us both deal with our loss.
So, Buffy got an appointment at the beauty parlor, and mama went in search of a nice new bed so that Buffy could sleep in the house instead of the patio room. I found a really pretty bed for her at Home Go*
ods
. When it was time for me to pick her up at PetSm@art, I looked for a new toy for her and found the
Orka

Jack
. What a great toy! It doesn't seem to be something she'll be able to chew apart, and yet it bounces. It was really affordable, too. I had planned on getting her a K*
ong
toy, but the
Orka
was several dollars cheaper. It was made in Chin@, however. I hope it's not tainted in anyway. All those recalls, you know?
Ack
!
Once we got home, she ran into the house and checked every room in the house. I think she was looking for Taylor. So, I quickly introduced her to her new bed and her new toy. I think the distraction the
Orka
Jack gives her is beneficial. She is so proud of that toy. When she drops it, it bounces, and that gets her very excited. She just loves it! I think I need to get another one so that she can have one in the yard and one inside, too.
I let her sleep in the house, something I rarely let her and Taylor do in the past because Taylor could be very restless at night. Buffy did really well. She got me up just before 4 am for a potty break, but then went back to her bed and slept until I was ready to get up at 6:45. That would never have happened before!
Michael asked me if we're going to get another dog. I told him I wanted to see how Buffy does on her own. She may be "easier" without another dog to compete with. I've had two dogs for the last ten years I've lived on my own. My motivation for doing so was that I was gone all day, and I wanted them to have companionship while I was away. But two dogs are a lot of work, and the expense is double. So, now that I'm no longer a single girl, and since Michael will be home during the day frequently, I think Buffy may do well on her own. Besides, we're hoping to have a baby next year, and puppies need so much attention and training that it wouldn't be fair to any of us to have a baby and a puppy at the same time.
So, the new normal is a one-dog household. One, soon-to-be very spoiled, beautiful yellow Labrador Retriever.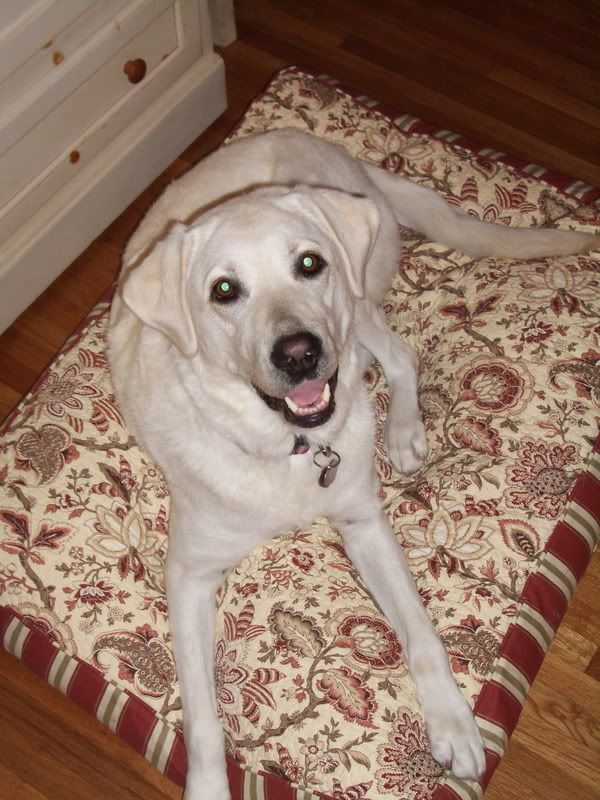 P.S. Mom, doesn't the first picture remind you of Vanilla? Sometimes when I look at Buffy, I "see" Vanilla. Too bad her
temperament
isn't more like Vanilla's... ;-)